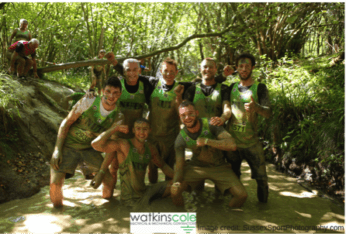 Paying it Forward at WatkinsCole – Here's Why CSR Matters
The concept of businesses having policies and taking part in activities that contribute to a better community – Corporate Social Responsibility (CSR) is central at Watkinscole Electrical Contractors. CSR was one of the first objectives Paul and I set ourselves when we developed our first vision statement more than six years ago now when we started our fledgeling commercial electrical company. Admittedly, meaningful contribution to our community has placed additional duties on our staff and us because it requires time, resources and budget commitment. However, we have gained much more professionally and personally because of the benefits that helping has given us in return.
Read on to discover the importance of our business being an active part of our local community and how CSR has helped on our journey.
Improving lives
Looking around our local Belmont community, you can see that there is much going on that makes a difference to the lives of local residents including the Sutton branch of The Royal Marsden Cancer Charity that helps to raise money for the Royal Marsden Hospital in London. The fantastic work they do here ensures nurses, doctors and research teams can provide the very best care, develop life-saving treatment and funding state-of-the-art equipment and ground-breaking research into beating cancer. Their work has made the UK a world leader in finding treatments and cures for terminal illnesses that benefit millions the world over.
St Raphael's Hospice that provides end-of-life services to thousands of people every year and is also on our doorstep. They too rely on fundraising and donations to continue to improve the lives of our community. We firmly believe that we have to contribute in any way we can to the fantastic work that is going on around us. However, what is the best way for our business to contribute
Types of CSR
There are many ways that companies like us can play a part in supporting the community. The methods range from being relatively hands-off (for example, recycling all the way to getting involved by putting boots on the ground.
At Watkinscole, our community is much too important for us to pay lip service to. To us CSR means doing things that have a positive impact on our neighbours through three main ways:
Involving all of the Watkinscole team in activities including allocating 'community support time' in every staff's annual schedule.
Doing fundraising activities like The Nuts Challenge.
Promoting local campaigns in business networking groups like BNI Sutton.
All of the community activities we get involved in start with listening to what people say is their greatest challenge. Listening helps us to genuinely understand what is vital to our community and the support that residents want; support that will make the most significant difference in their lives. Then where possible, we make a plan to go to action.
Is CSR worth it?
We can see the real impact on the kids and their families when our team raise money for research and support that reduce deaths and the devastating impact from terminal diseases. Without a doubt, contributing to our community helps our company as well as making a massive difference to our local community. These are some of the benefits we get from our CSR activities.
Philanthropy helps build stronger relationships with our current and potential customers.  Consumers today want to give their business to companies that work toward something more than the bottom line and contribute to making the world a better place.
We can attract a higher calibre of staff who value the opportunity to give back to their community. Indeed, Morning Consult's survey confirms that younger workers, in particular, think it matters if a company gives back to its community. Furthermore, they want to be part of those businesses.
Our staff are more productive, have higher job satisfaction, are more committed to the company and want to stay with us longer. These are the result of the morale boost that being part of a team that goes the extra mile for others, so they rightly view our team as willing to give extra effort at work with each other.
Engaging with residents helps us to understand our market much better. Only by genuinely listening to what people want/need, identify as their unique challenges that we can provide services that will improve their lives.
By interacting in non-work/business settings, people become interested in and want to find out what we do and what is important to us. More trust by the community.
Paying it forward
I believe playing an active role in our community has enabled us to build trusting relationships with our Belmont residents. The time and effort it takes to give back to save lives are undoubtedly worth it so we wouldn't have it any other way as giving back is now embedded in our business policies and practices. Let's do good in our lives, and let's do good in business not because we expect a reward, but because it's the right thing to do.
Our team of electricians of all shapes and sizes in Watkinscole Livewires successfully finished the recent Nuts Challenge to raise money to help fund the research and treatment to help beat Cancer. We spent a beautiful sunny morning mostly wading through and nose-diving into muddy trenches on the assault course.
We all had a great time judging by all and the stiff legs, and bruised bodies we came away with were all made worthwhile as we raised over £700 for charity. We want to thank everyone who has already donated to this cause.
Our Just Giving page has recently closed for donations. However, we plan to restart the fundraising campaign next year. We hope you will continue to help us to support our local community so will keep you posted.