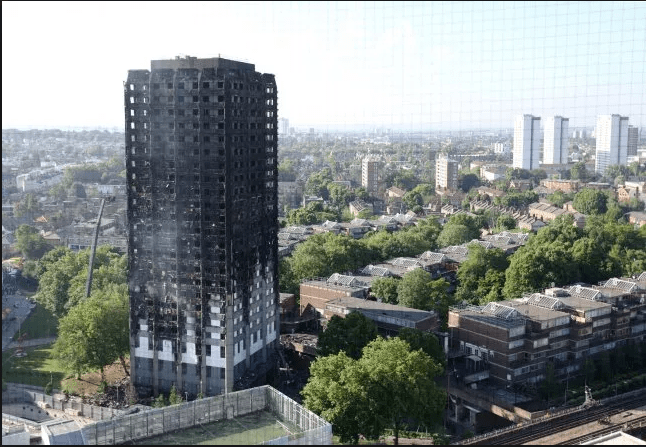 The importance of Electrical Safety Systems and Checks
If you own or are considering purchasing a property, it might not be obvious that there is anything wrong. This is especially the case in older buildings like period properties or in a larger building such as tower blocks and estates. However, one thing that is sometimes lacking in older buildings is an up-to-date-fire system. When considering older building often have a higher risk of a fire, it is ridiculous that so many are not equipped with the right systems or not compliant with current efficient electrical safety practices. This blog examines the causes of electrical fires in historical buildings and the importance of carrying out electrical safety tests to maintain robust safety practices.
Grenfell Tower
Let us go back to 14 June 2017. A fire started around 1 am in the kitchen of a flat situated on the fourth floor of a twenty-three-floor tower block in North Kensington, named Grenfell Tower. It was one of the U. K's worst fire disasters to date. Rydon Construction had renovated the building with an £8.6m refurbishment a year before the disaster. Part of the refurbishment included cladding to the exterior of the building, which, when added to other existing materials proved to be highly combustible.
Allegedly, fire safety regulations were not correctly up-to-date, and there were no mandatory checks since the refurbishment. With no Automatic Fire Detection System in place, it meant that there was no lighting to guide people out of the building, and the emergency exit doors were believed not to open. Within minutes, the fire had raced up the exterior of the building and then spread to all four sides. By 03:00, most of the upper floors were well alight. Regular fire checks and correct installation would have aided in the safety of the people who lost their lives in this tragic event.
Causes of Fires in Old Buildings
One of the most common causes of fires in historic buildings is an electrical malfunction. It is usually long-term overuse or overloading of extension cords (these are not for long term use), overloaded circuits, or outdated and faulty wiring.
A common cause of chimney fires is creosote inside the chimney catching fire and burning. Creosote is a harmful chemical that has now been banned since 2003 which can cause respiratory and sight issues to humans.
Inadequate maintenance can lead to structural problems that allow high temperatures, sparks and embers to escape to combustible areas in the walls, roofs or attics. We recommend having them cleaned annually by a professional. See more about getting your chimney or fireplace cleaned here.
Kitchen fires are an issue for buildings old and new; however, NPS has confirmed that kitchen fires are more common in older buildings which often have older cooking facilities. Take a look at Firesafe, who talk about how to manage a kitchen fire and how to avoid it.
Heating systems in historical building tend to be outdated and exert higher risk factors. One of the most risk affecting is the Solid Fuel Back Boiler, most common in the period, listed or restored buildings. See the diagram below as to how they work: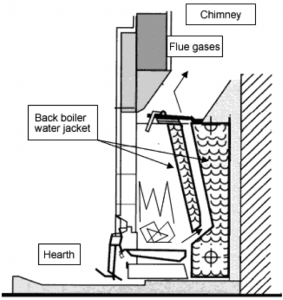 A survey from HSE Gov. "Found that the top and sides of a solid fuel back boiler can reach temperatures above 700°C. Within 2 hours the temperature in some areas had reached around 480°C. This is dramatically high when compared with normal system maximum operating temperatures of 124°C."
Signs to Look For
Whether you are visiting a historical building site, or live in an older home, there are signs you can keep a lookout to avoid the risk of fire
Dimming and/or flickering lights
Interference with or shrinking of your television picture
Frequent power cuts (isolated to your property)
Sparks from sockets
Sizzling sounds when using an electrical device or appliance
Burning smells and/or smoke
Electric shocks, no matter the severity
Warm or hot switches/plug sockets
Please Note: If you notice any of these signs, especially if you have not recently had your fire systems updated or checked, we would recommend contacting a professional for their advice on how to ensure the safety of your home and yourself.
Resolving the Issue
The best way to stop a fire is to prevent it ever happening in the first place. Make sure you take these measures so that you and whoever is in your building are safe:
Correct Safety Evacuation Routes in Place
Create an evacuation plan – and practise it. Evacuation routes are crucial for any building and essential in larger historical estates. Ensuring that fire exits are in place and available, preferably with sprinklers and emergency lighting to guide people out. This is all part of an integrated up to date fire safety system.
Fire exit doors enable people to get out of the building quickly or for the fire brigade to enter from different areas. Make sure these exits are clear and accessible at all times.
Pre-warning Smoke Detectors
Make sure you have smoke detectors installed. They are necessary for fire prevention. If you are alerted to a potential fire, you can catch it before it begins or spreads and evacuate the building accordingly and minimising the risk of harm to people and damage to the building.
Automatic Fire Detection Systems (AFDS)
AFDS systems make sure that even when all the electrics cut out, there is an emergency light system in place to guide people out of the building. Sprinklers also work with an AFDS. They are something that was missing from the "Grenfell Towers" and could have saved lives.
Up-to-Date Fire Alarm System
Make sure your system is up to date and coincides with fire safety regulation policies
If you're unsure how old or safe your electrical system is, a qualified electrician at Watkinscole can carry out an inspection and advise of any amendments or updates required. Regular checks are the best way to prevent any fire risks in your property. We advise that you identify and be aware of any potential fire risks within your home, know what to do to reduce or prevent the risks, and have a thorough escape plan in case a fire does break out.