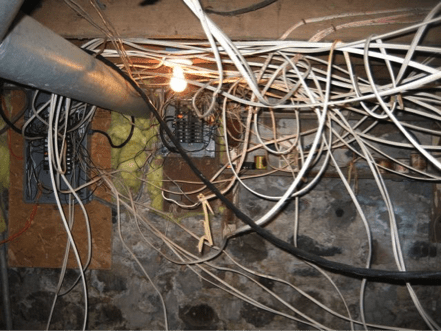 5 Key Factors To Look For When Choosing An Electrical Contractor
With so many cowboys masquerading as qualified, experienced electricians from a safety perspective, it has never been more important to choose the right electrical contractor for your residential or commercial project. Many people are tempted to opt for the cheapest quote, which more often than not could turn out to be a costly mistake. That said, knowing who to trust for your electrical installation and maintenance is not always easy, as there are many factors to take into consideration when making your decision. Read on to learn some important points to consider when making your decision.
Risk of choosing the wrong contractor
Picture the scene; a rusty Robin Reliant three-wheeler pulls up outside your property. After screeching to a stop, several men in string vests jump out and promptly light their cigarettes as they loudly argue about whose responsibility it was to pack the tools that were forgotten. A couple of the men decide to go back to get them, screeching off in the rust bucket. Meanwhile, the remaining man asks you to show him what needs fixing whilst he curses about how unhappy he is to be expected to do a day's work and complains about his incompetent colleagues.
The chances are that you would shy away from letting this group of unprofessional people into your property, let alone touch your electrical systems. You'd be able to quickly tell that they are not 'trustworthy' contractors in any sense of the word.
People fall victim to incompetent contractors because it is rarely easy to identify them. They are more likely to use inappropriate and low-quality materials, which in turn may not comply with current safety regulations. As if that isn't scary enough, there is a good chance that they will not follow health & safety regulations and procedures, creating a safety risk for you and anyone else in your premises.
This lack of professionalism typically translates into an unacceptable standard of work. This is the ultimate reason to go the extra mile to ensure that you choose competent, professional electrical contractors for your projects. Here are some key strategies to make the right choice.
Five ways to choose the right contractor
1. NICEIC – Certified
The most critical factor to look for in an electrical contractor is whether they are accredited and approved by the National Inspection Council for Electrical Installation Contracting (NICEIC). It is advisable to hire an electrician with NICEIC certification as the organisation assesses the competence of both domestic and commercial electricians to ensure safe systems of work that conform to standards set out by the IEE (Institute of Electrical Engineers), who set the standards for electrical installation work.
All contractors certified by the NICEIC undergo a stringent assessment process, which includes a comprehensive representative sample of their work, site visits, review of their premises, documentation, equipment and the competence of their supervisory staff. Only if they meet the NICEIC's high standards will they then be awarded a place on the NICEIC register.
2. Quality Workmanship
While some of us believe we can recognise high-quality electrical work when we see it, the reality is that not many of us fully understand the fundamentals of electrical systems. This lack of knowledge makes establishing what constitutes a quality electrical installation open to interpretation. The National Electrical Contractors Association (NECA) developed the National Electrical Installation Standards (NEIS) in the 1990s to take away subjective judgements of this essential quality.
Their guidance states that great craft in electrical installations is characterised by precision in a "neat and workmanlike manner". At the heart of this principle is the notion that "Good electrical work generally looks good". Even with limited knowledge of often-complex electrical systems, few of us would agree that the image above looks professional. You should be able to demand a high level of competence from your electrical contractor.
3. Safety standards
You have a right to expect your electrical contractor to work to the highest electrical safety standards. There are many safety standards that apply to electrical work that you should take into consideration. For example, Part P certification and the 18th Edition IET Wiring Regulations (BS 7671:2018), this is the most recent update of electrical safety systems, which came into force for all new electrical installations from 1st January 2019.
Since 2005, all electrical work in residential properties in England and Wales must meet the requirements of Part P of the Building Regulations. Compliance with Part P is intended to keep you and your family as safe as possible from electrical hazards.
"Part P states that anyone carrying out electrical work in a dwelling must ensure that reasonable provision has been made in the design and installation of the electrical installations to protect any persons who might use, maintain or alter the electrical installation of that dwelling from fire and injury, including electric shock".
Competent electrical contractors must provide you with a Part P certification upon completion of your electrical work because the homeowner or landlord is legally obliged to prove that all electrical installation work meets the standards of Part P.
4. Testimonials
A competent electrical contractor will have a body of work and previous clients who can attest to their work. The best people to tell you what it is like to work with someone are people who have used their services previously, and you should ask to look at an electrical contractor's reviews. They may host feedback on their website, social media pages or third-party sites like Check-A-Trade.  Don't be shy about asking to speak with previous clients so that you can hear their feedback first hand and ask additional questions if you wish. It is also worth adding that it may be unrealistic to expect to hear that everything the contractor has ever done has gone entirely smoothly because things can go wrong for any number of reasons. The important thing is to know that the contractor addressed the issues and resolved the problem speedily. It is advisable to remember that testimonials or reviews can be written by anyone and are not always reliable. They can be a way to manipulate unsuspecting customers into choosing a contractor when the reality is that they may not be genuine customer feedback.
5. Customer service
We want Companies to provide a high level of customer service – this means working with customers efficiently, effectively and resolving any issues that may arise. Customer satisfaction is the best advertisement you can get for new clients and repeat business.
While there are likely to be variations in people's criteria of what provides customer satisfaction, excellent customer service manifests itself in some or all of these many ways:
Punctuality and reliability
Good personal presentation and a professional manner
Provide plans for the work required and take the time to explain them
Keep the property tidy
Respect the premises, privacy, occupants and neighbours.
Complete the job as planned within time and budget
You may benefit from having a discussion with electrical contractors about your expectations and whether they can achieve them on your project. A discussion gives you the opportunity to agree on what is important to you, your expectations and whether they are realistic and achievable.
Bringing it all Together
We all have individual opinions on what we expect from a competent electrical contractor. However, when it comes to making a real choice between potential service providers, these tips will help to create a level playing field that you can use to make an educated choice. You shouldn't be surprised to learn that cost should not be the deciding factor when making your choice, most people agree that 'a job well done is worth paying for'. This approach may avoid you counting the costs of making the wrong choice to save a few pounds.
We recommend that you always use an NICEIC registered electrician to carry out any electrical work in or around your home or business premises. This ensures that you will have safe electrical installations which meet UK national standard, BS 7671 (Requirements for Electrical Installations).